2017 - MAKE in Darmstadt - Even playing and steering electronic micro-tonal bass flute presents itself. A fan generates the tones. By different aerial volume/time, it is possible to penetrate into the fifth and octave and into different overtone areas. The flute can play completely independently or it is steered through other players. The next performances: November in Munich, Freiburg and Frankfurt am Main.
In the flute small changes were appropriated in the construction, the integration of a fan, in the electronic control and new electronics case.
Video 1: Itself playing and steering bass flute
Video 2: By a player steerd itself playing bass flute.
2017 - Klangfest Untergreith, Austria. Play in "film and music" from Phill Niblock with the small micro-tonal bass transverse flute. The intervals to be played move in a frame of 20 to 40 cents. An essential play instruction: no expression of the tones. Please, you look and hear the video.

2017 - Klangfest Untergreith, Austria. For the first time the composition combination II" with the second electronically steered micro-tonal small bass transverse flute was played. In contrast to the first flute this flute is able to realise very fast a pitch change. Different algorithms allow a pitch change which can grasp the possible ton space to very small intervals. Besides, data are generated by the really played tone which determine the next pitch and an engine control in real time realise for the movement necessary in addition. Real time means for me a period of approximately 250 milliseconds. This time span is called in the perception theory also this what people feel as a present. In this time span all sound transformations also take place. The movement before the microphones serves for the triggers of the engine control, for the control of the sound transformations and not least for the sound in space. Video

2017 - Fair MAKE FRANKFURT 2017 my stand. Image 1, 2, 3. What pleased me particularly was the visit of a renowned flute maker from Vienna. He appeared enthusiastic about the possibility of moving the electronically controlled bass flutes on every length exactly and she making what playable on a hertz exactly. I played with the flutes in fixed intervals approx. 3-5 minutes. Although the game was unusual for most visitors, the fair visitors listened interestedly and tensely. The conversations with the audience were very pleasant for me.

2017 - Second electronically steered bass transverse flute - Composition construction ideas for the small bass flute and Ideas of the play is to determine the length of the flute pipe by algorithms and to steer it about an engine. The choice of the algorithms is an essential part of the composition process. During with the big bass flute the movement very slowly - per rotation of the spindle a distance of 0.5 cm is reached and with it a pitch change of approx. 1 hertz. The rotation time for 1 rotation lies with approx. 2 seconds. With the small bass flute the distance amounts to 5.5 cm for 1 rotation and a rotation is carried out after approx. 2Hunderstel seconds. The microphone attached to the flute takes the played notes and steers the movement of the pipe in his length through this.
The sound distances move from micro tonal intervals to almost to a semitone interval. The play of the tones is realised about one and exclusion data. Always in "hear in the pipe" with the play. The movement of the pipe happens fast. Aim was from the outset to construct two flutes with different signs for the play. A composition in the tones "how right away stand", a development almost is not to be heard and a composition in that the tones in very quick, expressive manner can be played.
The construction, draught of the single construction parts for the 3D-pressure, programming etc. are own idea and realisation. Essential help my colleagues from "hackerspace-ffm".
This flute was finished on the 22nd of Feb., 2017 and is soon recorded in Freiburg and Austria. Video

2017 - The next step with the electronically steered mikrotonalen bass transverse flute. The next step with this one electronically controlled micro tonal bass flute. The programming of the engine is unchanged, MAX/MSP-Patch, however, was extended by two voices. At the performance on December 14th, 2016, the performance was 3-voices, it is 5-voices now. One high voice and a very deep voice are come in addition. The extremely slow change of the pitch lets the impression arise as if the game remained on the always same pitch. Besides, the play encloses the area of 118 hertz to 170 hertz.
Here a Video.

2016 - The first performance with the electronically steered bass flute - on the 14th of December first-time play with the SKOP festival "images and music II. A composition for this bass flute, 5 loudspeakers and real time frequency modulations. Here a video with impressions.

2016- Second electroncally steered bass transverse flute - The second electronically steered bass transverse flute is ready in the construction. The construction is distinguished in essential aspects from the first flute. The engine is right at the end of the flute, in contrast to the first flute where the engine sits near by the headjoint. The construction of the second flute is more complex because I wanted to have a flute wihich is very fast in the movment. The construction parts necessary for it were printed out according to own draught in 3D. Some design features are still to be complemented, then the further development of the software follows for the control, or the composition bases and also this flute can be played.
The first flute is a glissando-bass-flute she plays herself very slowly on grounds of the construction and the programming.
The second flute can move very quick movements and is steered through itself about amplitudes and frequency values. In the picture an Arduino is to be seen, nevertheless, in the other course the programming will occur about a Teensy 3.6. This microcontroller disposes of clearly more possibilities for various control procedures.

2016 - First electronically steered bass transverse flute - The maybe first electronically steered glissando-bass transverse flute of the world is ready in the prototype.
After I have programmed with "hitmachine" a dynamic musical system, I thought, it would have to be possible to steer a glissando-flute through algorithms in such a way that the pitches can be determined precisely and that a play becomes possible in which algorithms give the pitches determined-andetermind and that the algorithms lead to a variation possibility. For a few days I have produced this flute now in the prototype, see pictures. The step motor programming about Arduino and a motorshield is able to determine precisely 1-cent interval. For a play unrealistically, in particular with a bass transverse flute this bore. Here a value of about 25 cents is recognizable for the human perception.
For this flute a program has written in which a pseudo-random extends the flute pipe in a certain-uncertain manner and shortens again. Besides, the program is an important part of the composition. The preparations for the programming and the programmation were marked by compositional considerations. Of course also the whole construction, the choice of the mechanical parts and the creation of the mechanics, because they led, in the end, to the possibility of an interval regulation of 26. 6 cents.
With the play is very irritating if I do not know, whether to myself the flute extended or shortened. I must completely get involved in the resonance of the flute, play laxly tensely and the pitch changes allow to "happen", then only the pitch changes are realizable.
As far as the first impressions, soon detailed descriptions of this flute and the compositional ideas.
I would like to owe my colleague of "hackerspace ffm", without her support the project would not be yet so far.

2016 - hitmachine for Acoustic Frontiers in Canada. For Acoustic Frontiers two pieces of music from hitmachine allow to generate. The pre-settings were so chosen that two formally very different pieces have originated. By a huge number of pre-settings it is possible to generate not only variations, but also different forms and/or form blocks. In addition a video about core functions in hitmachine and music 1 and music 2 for Acoustic Frontiers.

2016 - hitmachine in the SPEKTRUM in Berlin. For this presentation from hitmachine the pre-settings were so chosen that a piece of music was a continuous change or development in one form-block. The animation was as in Hamburg with "klingt gut!" which changes programming slightly.

2016 - hitmachine became to the Klangsymposium "klingt gut !" in Hamburg with new screen programming and with enlarged audio part presents. Hitmachine can generate only independently clearly of each other to be distinguished form blocks and is thereby able to form big form connections. Now, besides, it is possible to this machine to form musical breaks. The video documents the presentation. Because picture and tone have a common characteristic only in an abstract sense - they are generated by the same data streams - the presentation of picture and tone apart occurs. First part is to be heard of the audio part, then the picture part was to be seen quietly.

2016 - hitmachine was presented of the festival "EXPERIMENTAL INTERMEDIA" in New York in a version with glissando flutes. Four glissando flutes - piccolo, big flute, small bass flute, big bass flute - were played circle-like in an always returning order. Besides, data streams in MAX permitted very small pitch transformations which played in in real time, one pitch over and one pitch under the played pitch. A play with pitches very near together in the pitch. Hitmachine was performed in 3 separate parts: audio-part, visual part with the animation and play with the glissando flutes with a performance duration of approx. 1:20 hours. Here a video - 3:30 minutes - with short impressions. Video.

2016 - Hitmachine is developed. The dynamic system is further differentiated. The system regulated and extended itself. This leads to more varied conditions for the sound creation.
hitmachine will be performed 2016 in several times: New York, Hamburg, Berlin and Frankfurt.
For the performance in New York it will be presented hitmachine in a version with glissando flutes.

2016 - Hitmachine was presented November, 2015 in Bogotá, Colombia and in December, 2015 in Frankfurt in an audiovisual version. Substantially for the performances was a strict change of tone and picture. At no time tone and picture had appeared at the same time.
Also in December, 2015 play with glissando-flutes in the composition of Gero Koenig "chord relief" for glissando-flutes and Chordeograph.

2015 - New glissando flutes • Three new bodies for the small bass flute out of aluminium and coach voucher allow to make. The disadvantage of an "only glissando flute" is the restricted sound extent from a little bit more than a big sixth. With these 3 flutes I try to limit this problem. Advantage of these flutes is: Play of extremely fine pitch differences. On the 12th of December, 2015 these flutes are played first in a composition by Gero Koenig.

2015 - Peter Fjodoroff • My friend and colleague, the musician, actor and author Peter Fjodoroff, *09. 07. 1946 - †20. 08. 2015, has suddenly died. We played together since 1992 in the occupation preserved transverse flutes and tenor horn and in different bigger occupations. Our project "playing together" is based on inclusion and exclusion criteria. The single tone is understood as a complicated thing which is carried out in the play. By an extreme play manner of the tones arise like by itself the exclusion of scales and from a known motive forming, because: Pitch places are also to be taken in very small distances; the variety of the pitches further goes out 12 tones of an octave; the prime is the big common denominator on which two tones meet and move in each case in different directions, a tone upwards a tone in the depth; contrasts kick very strongly in appearance then all qualities of the tone are enclosed: the height, the timbre, the articulation, the length and the volume.
Here the stations and an example of our cooperation, Quick-Time-Movie.
On the SKOP-website and on Facebook your further information finds.

2015 - hitmachine constract lines • installation for filter sounds, animation and 7 loudspeakers
Here two tracks.
42 different filters unite to a compact, 7-voices, percussion-like machine. new: 6 other filters generate soundlike things, they flank the main stream of the events. hitmachine runs independently and without repetition. Circle-like recurring processes with different time intervals, interlock over and over again anew, while the at the same time filters receive new parametres and form the musical circumstances anew. Lies to these expiries a 6-fold random generator which determines the pitch transformation values in snake-like manner, temporal expiries initiates and finishes. A not end-disposed expiry of extremely high variability. hitmachine generates a connection of tone and picture in an almost infinite variation.
By data of the amplitudes and the pitches become lines which are programmed in PROCESSING about which screen moves. By these data the lines keep her tempo with them above the surface move, her line strength, her length, direction, form and her colours. The algorithms lead to a variety in movement, colour and expansion of the lines: an equivalence of the variety of the musical expiry. hitmachine: work in progress.
Programming PROCESSING: Keith O'Hara,Peter Wiessenthaner
Programming MAX: Peter Wiessenthaner
Performances of hitmachine: Festival in Cracow and Schiphorst, college of music Munich, Signalraum Munich, SKOP and PHONOPHON in Frankfurt, different Versions for Internet

2015 - 25th of April, SKOP event "multimedia - acoustic - electronic". Performance within the project "sound and image" in a variation for two bass flutes and live electronics and 7 loudspeakers". In this work pictures of the performance situation - construction of the loudspeakers, play situation were shown etc. - within an animation in a few points. Besides, the sounds of the bass flutes steered the way of the photo presentation (pictures from the animation 1, 2, 3, 4, 5, 6, 7). Besides, a photo is never to be seen whole, but only a circular cutting. The amplitude of the bass flutes reduces this cutting up to zero or increases him around, besides, at the same time the colour values till the white to increase. MAX and PROCESSING form a unity of live-audio-picture-processing and control. Besides, the photos for the animation also explain the whole connection of the live-electronic construction, or the idea of this composition. Subject of the performance reflects to itself in the images. With 4 microphones are played the bass flutes. Every microphone heads for a loudspeaker - see pictures. The tones are multiplied about FFT (Fast Fourier Transformation) in a simple combination by themselves and are transformed and played in again. A network of near together lie of tones originates in micro-tonal distances. Everything happens in the real time, no precast parts except the photographs. Video of the performance.


2014 - 9th of November, SKOP event "Combinations". Performance of a new version of "hit machine", for 7 loudspeakers and animation. A line network corresponds to the sound network of hitmachine that is released by the sounds and is changed constantly. See moreover further unte the implementation to the blow machine with animation. A video of this work is in preparation.

2014 – 19. till the 30th of June Germany tour. Festival in Schiphorst, Munich, "Echtzeithalle" and "Signalraum" and then 3 days of performances in the "Tresorraum" in Tübingen. Us were on the move with a full-length program, Gero Koenig and me. 2 solo pieces of me, 2 solo pieces of Gero Koenig and 2 duets. There follow different videos.
hitmachine with animation. Installation. Video. 42 filter sounds, created with MAX, generate a fine-meshed network of perkussiven sounds. Agreed and chance-steered, circle-like expiries, prove a sound pattern changing over and over again, a play without recurring pattern and freely from known tact patterns. This tutorial covers the creation of equations: mathematical statements that evaluate an expression based on input values. The key to equations in Max is the expr object, which provides a wealth of mathematical functions and a "write your own" mechanism for developing complex statements.
The multiple which are programs in PROCESSING are moved by these sounds about the screen and her colour and size are assigned to them by the movement. Here a cutting from the installation.
Programming PROCESSING: Keith O'Hara, Peter Wiessenthaner
Programming MAX: Peter Wiessenthaner
Camera: Serge Le Goff

Composition for 2 bass flutes, 4 loudspeakers and animation. Video. The bass flute playing was transferred more than 2 microphones into the space. By movement before the microphones the tones were expressed and quietly, according to distance to the microphones and a movement of the tones is perceived by the space.
At the same time the movement serves before the microphones and the volume of the tones for the generation and control of a colour composition which was programmed in PROCESSING. A process is got going by constantly changing colour combinations which continues to exist only by the play. With MAX the played tones were worked on and returned on two other loudspeakers. A microsound ale tone colour network originated.
Programming PROCESSING: Keith O'Hara, Peter Wiessenthaner
Programming MAX: Peter Wiessenthaner
Camera: Serge Le Goff

MAX send about OSC interface data to PROCESSING - Video.
Above the OSC interface the audio-data are sent by MAX to PROCESSING. 42 filters generate a complicated-many-voiced electronic music whose data steer a programming in PROCESSING. Without external intervention the music generates a constantly changing colour play.

Enlargement of the flute collection - Image
Piccolo flute with sliding-pipe. Big Floee with verchiedenen sliding-pipes and with passed away to punched pipes and gedackte pipes. Old flute with sliding-pipe, punched pipe and gedacktem sliding-pipe. Bass flute 2 with sliding-pipe, easy pipes and punched pipe. Bass flute 1 with an easy pipe (is still extended). From the 14th of February to the 16th of February, 2014 test with this flute collection in Cologne with Gero Koenig and his instrument, Chordeograph. From this cooperation arose the need to extend my flute collection. Now the whole spectrum of the Chordeograph tones is covered with it and by the sliding-pipes new formative possibilities arose for my play and the teamwork.


2013 – Intensification of the work with MAX and PROCESSING. The teamwork with Gero Koenig develops. PDF to our cooperation.
Performance in November in Frankfurt and Cracow from coloured circles move - generates with MAX and PROCESSING and the hitmachine generated with MAX infers with PROCESSING and the COMPOSER'S DUO Gero Koenig and Peter Wiessenthaner.
During the last months different works originated for the Internet. Substantially for this audio visuell works it is: The play of the tones generates pictures. No visual representation disposed however of tones. Example: colored circles move. A change of animation and music, produces with MAX and PROCESSING. Also with these programes originated: five objects with drums-like impulses and five circularites by line formations.
Only with MAX the following works have originated: colored stripes, points and areas II, colored stripes, points and areas I, in these works the timbre and the amplitude of the sounds steers the colour, the lines, briefly the forming of the colour play. Two works originated as a pure animation, without music: busy streaks and color areas and stripes animated and coloured.
Video with Peter Wiessenthaner, preserved transverse flutes and Gero Koenig, Chodeograph 2, in Cologne.


2012 – bamboo – Composition for specially constructed transverse flute, Monochord, 4-string bass instrument, rhythm box, video, PC and 6 loud speakers with subwoofer. Performance: 24th May 2012 at Acousmain, Frankfurt/Main – Germany. Photos of the stage 1, 2, 3 and 4. The played notes had been recorded by microphones, emitted by loudspeakers and simultaneously arranged and replayed by MAX. Each loudspeaker had been given a distinctive range of sound. Videos and single pictures navigated in several ways the loudness of the tones. Two videos were merged in respect to tempi, colourful- and lightness by loudness and determined volume, highlighting for a short period of time single pictures. The videos were created from several single photos, taken in a bamboo forest. These photos were abstracted to vertical movements by retaining the vision of space. The single photos have been animated into videos. These videos are subject to complex live-sequence during performance. The play of tones changes the videos towards abstract pictures, where only two-dimensional space and colourness is of importance.
The live-performance lasted ca. 50 minutes; the documentation – video – has approx. 15 min. of length.


2011 – New instruments – As the play of the transverse flute is limited to a defined range of sound, I felt the need for an extension of the klanglich-tonlichen –tonal and sound possibilities in particular to playing chords. And then, end of 2010 the first result by creating a 7-string bass-instrument, equipped with special 220 cm long bass-strings. This instrument was played for the first time in November 26th 2010. It was extended by using MAX to work on each tone and thereafter to be implemented into the live-concert. The 7-string instrument proved to be too clumsy and thus was subsequently reduced to 4 strings showing the required result of ease of playability. The enhanced version of the instrument was first performed on 28th May 2011. See SKOP-Veranstaltung "Musikmarathon mit Roland Graeter" (SKOP-concert called "Music marathon with Roland Graeter). Soon a sequence of this concert will be available on this side. Here the predominate instruments I played during this concert. Image.


2010 – "Meer – Die Erde ist rund" ("Ocean – the earth is round") – I used a special technique to take pictures of the ocean. The individual photos had been grouped together to form panorama pictures. The human perception had been the guidelines for these photos. A second series of pictures was extremely artificial. The pictures – manipulated by a special technique – were transformed into round pictures, highlighting the symmetric character of the circle. The music being on one side a stand-along element remains still as part of the pictures. Both form a synergy. The picture show is presented in a double projection modus. The two projections levels and the development at each level is set in relation to each other contrapuntal.
Quoting contrapunctal we finally arrive at the music. Several elements – a production created at Rotterdam Worm-Studio in 2009 – are the starting point for the music. These materials, tones from the transverse flute and drum, which have been composed in small self-contained parts, had been re-arranged and contrapunctal newly composed sequences, played with a E-guitar, have been included. Of importance had been the full-artikulation of the transverse flute and drum tones, meaning that each element of the artikulation such as tone heights, intense of tone, lengths of tone, beginning and ending of tone, tone development, tone colour and tone volume have been each addressed during the play. The musician focuses during the play on one or two elements of the tone structure. The music recites in the background and enfolds there its strength.
E-guitar: Christiph Korn
Transvers flute, drum, composition Pc and Mix: Peter Wiessenthaner
Multi-Media Show: Peter Wiessenthaner


2009 – "Stadtansichten Berlin 2009" (Faces of Berlin 2009) – Photos of the architecture of 3 different streets had been taken each with a wide-angle and a telephoto lens with a determined focal length. Thus the viewer is able to experience the physical condition. The pictures are at the same time overview and detail. The photos had been divided in several parts.
Simultaneously to the pictures music can be heart. The show is presented in dual-projection.
The original version is composed for 2 musicians and 2 beamer. The premier took place in Frankfurt / Main on 12th December 2009. Along with the Internet photo-show music composed at WORM-Studio in 2009 can be heard. Here the link to "Stadtansichten Berlin 2009".

2009 – "Projekt Zusammenspiel" ("Playing together") – with Peter Fjodoroff (specially constructed Tenor horn and Peter Wiessenthaner, specially constructed transverse flute. Resulting from similar interested in compositions the project "Zusammenspiel" (playing together) had been put alive. Since the year 1000 music continuously developed achieving a high degree of complexity nowadays. This process will continue. We see ourselves not only as the descendant of twelve-tone-, the serial or the coincidence music…. "Stadtansichten Berlin 2009".

2009 - Stay at WORM-Studio, Rotterdam. Recording for a radio play.


2008 – "Farben und Töne" ("colours and tones") – Peter Wiessenthaner. Had it been in the past spaces of colour (Farbflächen) corresponding with music, the main emphasize this time had been on architecture and details of architecture and landscape. Base were pictures taken by Peter Wiessenthaner in the South of France. Accompanying his pictures Peter plays his specially constructed transverse flute. Important for the play is that single tones of the composition frequently slightly vary in its tone heights leaving the impression the music would remain still on a constant tone heights level in midst of tone-weaves. However a space of tone is constantly passed through by many octaves.
Each tone is completely articulated, meaning they can receive simultaneously changes in loudness, colour of tone, heights, volume and articulation.


2007 – The SKOP-Trio plays in this setting several times. Transverse flute, specially constructed e-guitar and drums are the starting points for the compositional play with tones. At the studio a method of play had been created which could not be performed live, thus it was included in the live-performance via loudspeaker.

2006 – Combinations of tone and colour. Variable colour panels in connection with tone combinations had been created on PC had been put in relation to each other. Based on generalized principals the work with colours and tones developed and had been specifically utilized in each media.
The SKOP-Trio:
Drums: Wolfgang Wuesteney,
Ebow-guitar: Christoph Korn,
and transverse flute: Peter Wiessenthaner.
Performaces: April and December 2006. Before each performance guitar- and drum tones had been recorded in a studio by applying a special method. The recording had been put together in a pre-recording. During performance a possible final version was developed.


2005 - "Vertikale" - computerpaintings with music. Load video complett, about 1 minute.


2004 - 6 lectures, "Qualtitiy of sound and time in music". He is interested in this problem for about 25 years.
Different compositions with prepared flutes (side-blown flutes), alto flute, percussion and computer - without notation.
Internet-media-shows - "cityview" and "situation".
Magdalena Ising and Peter Wiessenthaner - painting and music.


2003 - "Playing together" - duet with Peter Fjodoroff - prepared althorn, Peter Wiessenthaner - prepared flutes. We work together since 13 years, and we don't play in a temperament system trying to show different qualities of sound in our music. QuickTimeShow with MP3. "One-minute-pieces"; in the future mp3-files.
Multi media performance with prepared flutes, alto flute, percussion, live electronic, computer and video.
Internet-media-shows.


2002 - Duet with Peter Fjodoroff - "Playing together".
Multi media perfomance with prepared flutes, alto flute, pecussion, live-electronic, paintings and video.


2000 - "Playing together" - Duet with Peter Fjodoroff.
Composition with prepared flutes, alto flute, percussion and computer.


1999 - Composition with computer - using two sounds of "Livre d'orgue" by Messiaen. My work included an intense occopation with Messiaen's compositional principials.
"Playing together" - Duet with Peter Fjodoroff.
Overhead-projection: oil-paintings of acryl-plates (21cm x 21cm), prepared flutes.
Using alto flute as accompanying instrument to - "images and music" (composition of Phill Niblock).
Lecture: "Elements and construction of sound".


1998 - "Playing together" - Duet with Peter Fjodoroff.
SKOP-Trio: Peter Wiessenthaner, prepared flutes; Dirk Marwedel, preparad saxophon and Ulrich Phillipp, contrabass.
Live installation: oil-paintings on acry-plates (14,5 cm x 28,5 cm) and oil-paintings on windscreen (ca. 160 cm x 65 cm), overhead-projection, prepared flutes and live-electronic.


1997 - Sounds with prepared flutes, voice and live-tape with to channels.
Lecture: Rooms of possibility and probabilitiy in playing improvised music without notation - a presentation of toughts.
Lecture: "The musical sound and his elements" - part 3.
"Playing together" - Duet with Peter Fjodoroff.
SKOP-Trio with Dirk Marwedel and Ulrich Phillipp.


1996 - Painting/film - Oil-paintings of acryl-plates, overhead-projection, 16mm film.
Lecture: "The musical sound and his elements" - part 2.
Sounds with prepared flutes, voice and live-tape with two channels.
Sounds with prepared flutes, voice and live-tape with 8 channels and four loudspeakers.
"Playing together" - Duet with Peter Fjodoroff.
SKOP-Trio: Peter Wiessenthaner, prepared flutes; Dirk Marwedel, prepared saxophon and Ulrich Phillipp, contrabass.
Using alto flute as accompanying instrument to - "images and music" (composition of Phill Niblock).


1995 - Sounds with prepared flutes, voice and live-tape with to channels.
"Playing together" - Duet with Peter Fjodoroff.
SKOP-Trio with Peter Wiessenthaner, prepared flutes; Dirk Marwedel, prepared saxophon and Ulrich Phillipp, contrabass.
"Projection-reflection": installation with paintings on glas, acrylgals and aluminium.


1994 - Sounds with grand piano and tape.
"The time at the same time": live-installation by Marcel Post and Peter Wiessenthaner; conception: Peter Wiessenthaner.
Live-electronic-music, processing tapes by Joerg Grundhoeffer and Peter Wiessenthaner, conzeption: Peter Wiessenthaner.
"Playing together" - Duet with Peter Fjodoroff.
Lecture: "Music and language" - specific problems with regard to the forming of sounds.


1993 - Live radio-play (Joerg Grundhoeffer, Alexander Heidgen, Robert Harnischmacher, Peter Wiessenthaner), conception Peter Wiessenthaner.
Lecture: "The musical sound an his elements" - part 1.
Grafics with computer.
Electro-acoustic composition with live-electronic.
"Playing together" - Duet with Peter Fjodoroff at first time in concert.
Foundation of SKOP, this organization is deeply interested in arranging events and perfomances in an interdisciplinary connection.


1992 - Playing together with Bernhard Guenter.
Composition with voices, dia-projection, live-tape.


1991 - Composition with voices, dia-projection, live-tape.
Compostion with live-tape, mixing-console, amplifier and loudspeakers.


1990 - "HoerspielHoerspiel" - radio-play for two channels
"Tonbandverarbeitung" - the material on tapes was replayed with live-bandmaschine by using loops (15 m !). We created different sound and different areas of pitch perception.
Live-radio-play - "Empedokles auf dem Aetna" by Friedrich Hoelderlin, for one Speaker and live-tape. The hole text was spoken into two microphones. The different positions in distance to the microphones was used to caracterize the different personalities.


1989 - "Tape-guide" - the material on tapes was replayed with live-bandmaschine, effect of loops and the pitch as noted above 1990.
Live radio-play - "Empedokles auf dem Aetna" of Friedrich Hoelderlin, as noted above 1990.


1988 - "Tape-guide" - the material on tapes was replayed with live-bandmaschine, effect of loops and the pitch as noted above 1990/1989.
Sounds for two and more voices and live-electronic. For many years I worked on this project in Live-radio-play - "Empedokles auf dem Aetna" of Friedrich Hoelderlin, perfomance like noted above 1990/1989.


1987 - Organization of tape-material as noted above 1988.
workshops - experimental music.
Live-radio-play - different kind of forms.
Composition for voices, viola, basson and live-tape.


1986 - Organization of tape-material as noted above 1988/1987.
Improvistion: piano, bassoon, and three flutes.
"Multiphonics and anothers", compositon for bassoon and live-tape. Result of long cooperation with Karl-Heinz Riedelbauch.


1985 - Organization of tape-material as noted above 1988/1987/1986.
Compostion for viola and live-tape.
Improvisation for voice, flute, material, violoncello and live-tape. Variation of perfomances.


1984 - Organization of tape-material as noted above 1988/1987/1986/1985.
Improvisation for four flutes.
Live-radio-play - different kind of arrangements.


1983 - "Thraenen" - composition for voice, flute, and live-electronic after a poem by Friedrich Hoelderlin.
"beckett-studies" - movements, dia-projection and live elektronic.
"Get on the track of" - for grand piano, material, dia-projection and live-electronic.
Concerning the material on tapes work as noted above.


1982 - Composition with live-tape, material on tapes, two microphones, two amplifieres and two loudspeakers.
Concerning the material on tapes I refer to my tatments noted above (i.e. 1988/87/86/85/84/83).
Playing together with Bernhard Guenter.
Beginning of works with Hoelderlin poems. This project will ending in 1991.


I demonstrate my work in: New York, Bogotá, Toronto, Berlin, Hamburg, Gent, Muenchen, Frankfurt, Kassel, Darmstadt, Schiphorst, Krakau, Tuebingen, Rotterdam...
Contact please: p e t e r (ähtd) w i e s s e n t h a n e r (dddoootttt) d e
All this is "work in progress" an will leave ample room for further development.

2. MAKE in Darmstadt, auditorium informatics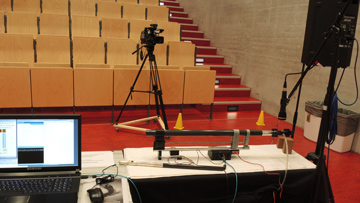 Klangfest Untergreith 2017 - Play in "film and music from Phill Niblock" - Video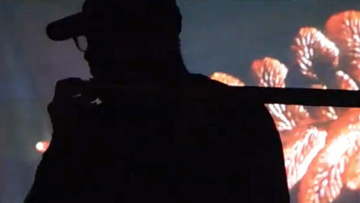 Klangfest Untergreith 2017 - combination II - Video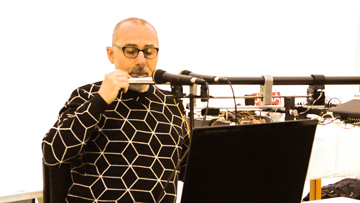 Fair MAKE FRANKFURT 2017 - my stand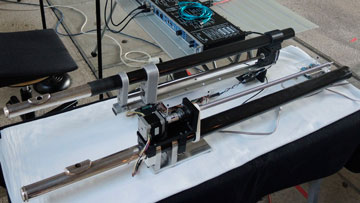 Electronically steered small bass flute - Video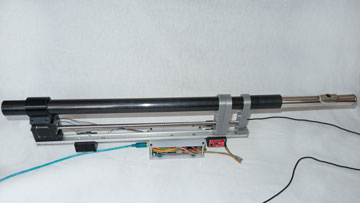 Electronically steered big bass flute - Video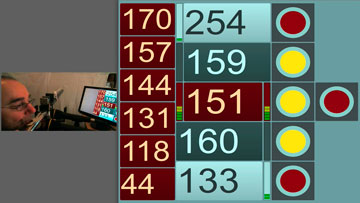 SKOP-Festival "images and music II" - Impressions, Video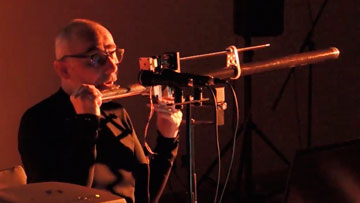 Electronically steered small bass transverse flute - image




Electronically steered big bass transverse flute - image



Hitmachine - screenhot, Video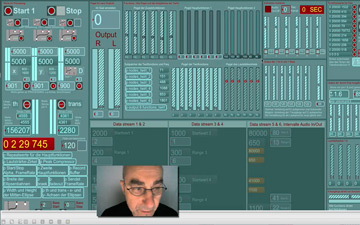 Hitmachine - Hamburg, Klangsymposium, Video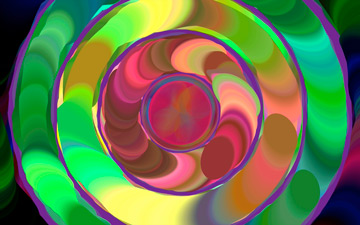 Hitmachine - Bass flutes, Experimental Intermedia, NY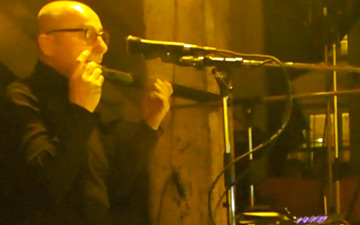 Hitmachine - Image concert Dezember 2015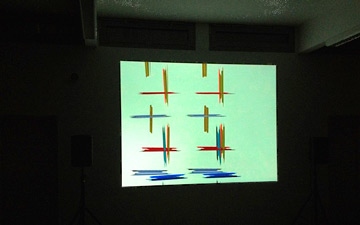 Play "chord relief" mit Gero Koenig • Composer-Duo



Three bass flutes, image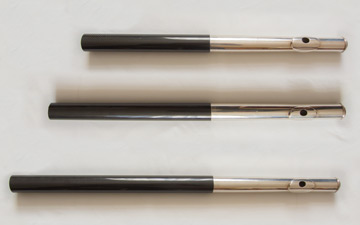 P- Fjodoroff and P- Wiessenthaner, Play together, Video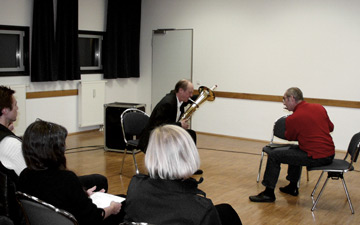 2015 - hitmachine constract lines - video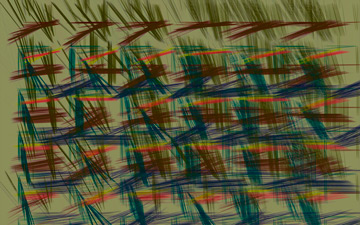 2015 - sound and Image - Screenshot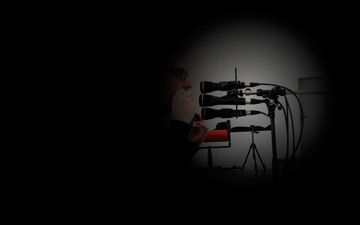 2014 - Screenshot, hitmachine with animation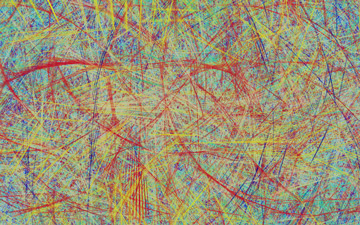 2014 - Screenshot, hitmachine with animation, video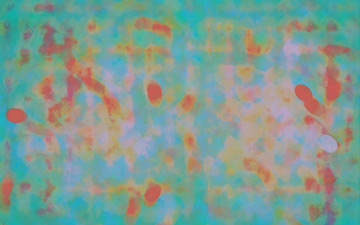 2014 - Tresorraum Tuebingen, Video. Image: Serge Le Goff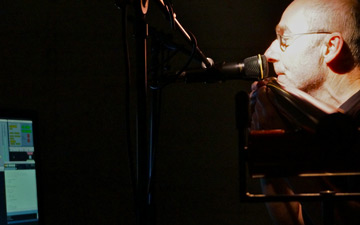 2014 - Peter Wiessenthaner and Gero Koenig - image





2014 - hitmachine, video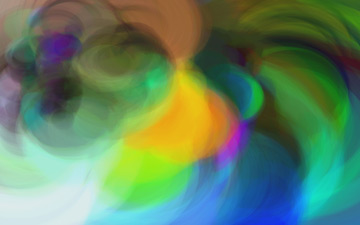 2014 - Flute collection image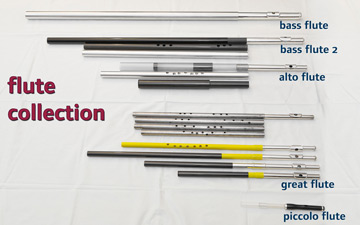 2013 - Screenshot: colored circles move, concert in Frankfurt und Krakau, video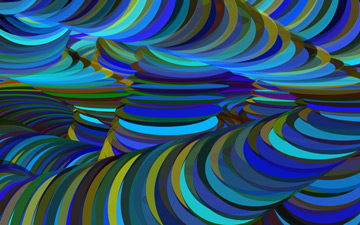 2013 - Composer-Duo Peter Wiessenthaner and Gero Koenig, in Frankfurt and Krakau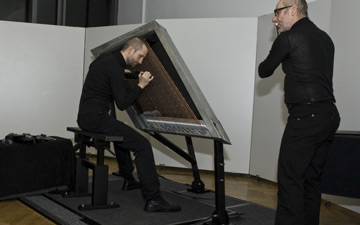 2013 - In Koeln with Gero Koenig - video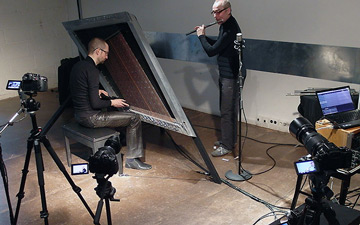 2013 - colored circles move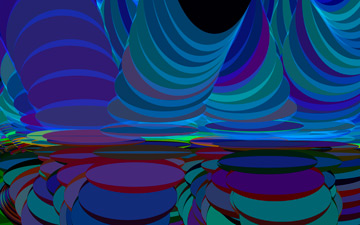 2012 - bamboo




2011 - played with new bass string instrument - great image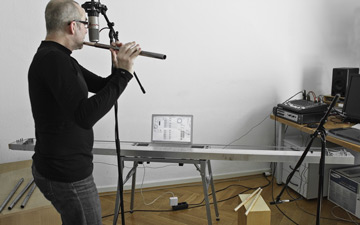 1992 - Flute collection, with holes, in 1992 developed, first with Peter Fjodoroff in 1993 in the concert played - great image